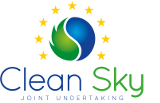 Clean Sky 2 General Information Day
21 November 2013
At The Hotel, Boulevard de Waterloo 38, 1000 Brussels.

Registration will close on 15 November, or before if venue capacity is reached. Registrations will be accepted on a first comes, first serves basis.
Clean Sky reserves the right to limit the participation to one representative by company to ensure maximum representativeness at the event.

PROGRAMME

17:00 – 18:00
(20/11)
and
8:00 – 9:00
(21/11)

Registration

Note: Participants arriving and having registered on 20/11 are welcome to join the participants in the
Clean Sky General Forum for a shared Cocktail
Reception starting 18:00



09:00

Welcome and Opening



Eric Dautriat, Executive Director CSJU



09:15

The Horizon 2020 Framework Programme and Clean Sky 2 – an overview



By a representative from the European Commission



09:30

General overview of the Clean Sky 2 preparations



Ron van Manen, Clean Sky 2 Programme Manager (acting)



10:00

A High-level Overview of the Clean Sky 2 Programme by Area



By representatives from each IADP/ITD/TA



11:00 Coffee Break

11:30

A High-level Overview of the Clean Sky 2 Programme by Area (cont'd)



By representatives from each IADP/ITD/TA



12:30

Discussion with the Audience



13:00 Lunch



14:15

Practical information on Clean Sky 2 opportunities for participation, expected calls, and guidance for potential applicants*


By a representative from the European Commission
Bruno Mastantuono, Legal Officer of Clean Sky JU
and
Sebastien Dubois, Clean Sky Project Officer


* Subject to the approval of the Proposal for a Regulation on the Clean Sky 2 Joint Undertaking



15:45

Closing remarks


Eric Dautriat, Executive Director CSJU




Coffee/Tea break



16:00

Networking time for Participants

16:45

End of the Day